Perfect for school trips to Berlin – in terms of budget, ideas and fun
Berlin is not only very popular with guests from all over the world, but also with many students.
On our school trips to Berlin and political education trips you can make a variety of discoveries, enjoy pure variety, experience history(ies) – all within a really reasonable budget and with individually selectable program points.
We can support you, take extra wishes into account and above all take "everything" off your hands.
Let us organize the school trips to Berlin …
Arrival and departure by train, flight or bus
Overnight in a central hostel
City tours by bus, bike, canoe or ship
Tours
Interview with Zeitzeugen/eyewitnesses
Public transport tickets
Tickets for the numerous attractions and stages of the capital
German Bundestag: School trips to Berlin
Members of the Bundestag can invite you to Berlin for a visit to a plenary session of the German Bundestag or for a lecture in the visitors' gallery in the plenary hall. This contingent is divided between the weeks of the session (attending a plenary session) and the non-session weeks of the German Bundestag (lecture in the visitors' gallery).
In addition, slots are allocated in the less popular months: November, December, January and February.
However, a travel allowance is paid after the trip. The travel allowance usually covers part or most of the travel costs, but rarely all costs. All other costs must be borne by the participants themselves.
We would be happy to establish contact with members of your constituency to get to know their political work in the capital.
These school trips to Berlin are not organized by the government. That's what InBerlinReisen is for! The Bundestag, however, will organize your guided tour of the inside of the Bundestag for you.
We are always happy to help with personalized tips to "our" city,  so that every school trip will be a great trip to the capitol.
The best thing is for you, your students or their parents to decide on a balanced and individual schedule for your school's trip to Berlin!
Contemporary Witness
Not just for school classes. Personal East German history.
Tours of  "Jews in Berlin"
Just behind Alexanderplatz there are countless traces.
Berlin Site Jogging
With Agnes Nöll and your own tempo through Berlin.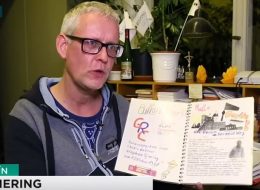 Discover East Berlin
An entertaining city tour with Germany's youngest East German contemporary witness.